Enjoy unlimited calls & text across Australia
$10 credit + 10% off
$0.00
1st month
then $9.89 ongoing
Unlimited standard calls & text
98.8% coverage for Australians 1
Min total cost: $0 (no contract)
$10 credit + 10% off
$7.99
1st month
then $17.99 ongoing
Unlimited standard calls & text
98.8% coverage for Australians 1
Min total cost:$7.99 (no contract)
$10 credit + 10% off
$12.49
1st month
then $22.49 ongoing
Unlimited standard calls & text
Unlimited standard calls & text to 15 countries
98.8% coverage for Australians 1
Min total cost: $12.49 (no contract)
Our 18GB mobile plan includes unlimited calls & text to 15 countries
Order over the phone

1300 249 765

Monday to Friday 8am to 8pm & Saturday to Sunday 9am to 7pm AET
We're Pennytel!
We're an Australian-owned, mobile plans provider focused on providing great value and outstanding customer service. We're proud to partner with NSW Seniors Card to offer you exclusive deals on our mobile plans.
It's important to stay connected in today's world and we're committed to helping you stay in touch with loved ones near and far – all at an affordable price. Whether you need a small data plan or an all-inclusive bundle with calls to 15 international destinations, we've got you covered.
We're giving NSW Seniors Card holders 10% off our Seniors exclusive plans to make them more accessible. It's super simple to switch to Pennytel – all you have to do is order your SIM online by clicking 'get started now', and have the discount automatically applied or mention this offer over the phone, activate within two months and you're good to go!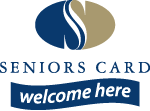 We're loved by our customers
Promotional Terms & Conditions
*Available for new service orders: 10% off standard charges for all NSW Seniors Card Members and NSW Senior Savers Card members for the duration of your service. Bonus $10 credit for the first month. Excess data and non-standard calls and texts are charged at PAYG rates. Available for new 1GB, 8GB and 18GB service orders. SIM card must be activated within 2 months. Limit 2 customers located at the same address. If ordering by phone please mention 'NSW Seniors Card' to claim this offer, and if ordering online please use the links provided on this page. Pennytel does its best to offer Members our best market pricing at the time a member orders a plan but cannot guarantee that a plan acquired by a member will always be supplied at the best market pricing.